News from Mina Oglesby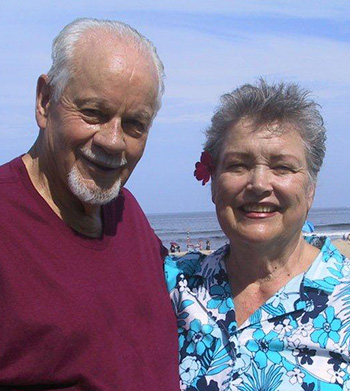 June 16, 2014
Hello, Dear Friends!
Back in April, when we were contemplating a summer and early fall with no meetings scheduled, it looked like a LONG stretch of just chillin' and very probably sitting around twiddling our thumbs...however, when one truly leaves life's "scheduling" with the Lord, HE is always able to fill it to His satisfaction and purposes!! (which is ALWAYS the very BEST for us!!) "Wonderful Lord..."
We are absolutely LOVING our new church family (LifeSpring Baptist Church) and especially our pastor's preaching and leadership! (You can hear most of his messages online at
www.LifeSpringbaptist.org
). I have been asked to start a ladies' Bible Class during the Sunday school hour and I can't TELL you how exciting that is!! It will be open to any ladies who want to attend and we will also use it for an outreach tool for ladies in our community. Teaching a regular weekly class will certainly be a new venture for me, but I have been reading lately about the necessity of trying new things in order to STAY YOUNG!! There will be young women of our church sharing in the teaching, especially when Eddie and I are out of town in ministry...this will give appeal to both younger and older women--THRILLING!!!!!!!!!!!! Please pray with us about this when you think of us.
We have been using a lot of our "off" time to make visits to shut-ins and sick folks...I LOVE to bake, and since Eddie and I are easing off starch and baked goods, this also gives me a way to enjoy the baking without eating it!! Hooray!! We made three visits just yesterday and all were very enjoyable.
Mid-July will take us back to Festus, Missouri, to Pastor Randy Casey and his wife, Mary...it has been 18 years since we were last with them! Randy emailed me that I must be using old pictures on our website since we don't seem to have changed a bit...(wait till he sees us up close!! haha) Then in August my Sweetheart will celebrate his EIGHTIETH, YES, 80'th birthday!!! How is that possible??!! September will find us flying to Okinawa, Japan, for ministry with Gary and Karen Craft in their wonderful military work, Maranatha Baptist Church. From there we will fly to Korea for other military ministry with the Fergusons...it will be a killer trip physically but we are SOOO excited about the opportunity!! When I start thinking about how LONG it will take us to get there, and then get back, I am tempted to fret...THEN I remember that the LORD opened these doors and He ALREADY has whatever grace we need available...always right on time!!
We have been trying to exercise our bodies this summer too and maybe even lose a little of our "surplus..." :-)) We swim at the YMCA every Mon-Wed-Fri- and then walk on Tues-Thurs and sometimes Saturday if we can fit it in. We do feel better, thank YOU Lord!!
So you can see we have been and will be busy beavers...even though the schedule looked "empty" on May 7...Please pray for us that doors of opportunity will continue to open as the LORD wills...and that our health will stay such that we will be able to go through them! Trust that your days are filled with His light and presence, and that you are profitably occupied with and for Him, even if your "schedule looks empty!!"
Hope to see you this year!!
Love,
Eddie and Mina
How to Schedule Mina at your Church or Event 1.

Check the

Itinerary 2.

Contact Us:

Email Mina

Please let us know the dates and the venue.

We look forward to hearing from you.

F.A.R. Retreat

The FAR Retreat is held at the beautiful Cedine Conference Center right on Watts Bar Lake in Spring City, TN. Imagine sitting in one of the many rockers on the covered porch that look out over the lake. On Friday evening, there is a share-sing-praise-prayer time around the campfire led by Tracy Coats.

Read more