News from Mina Oglesby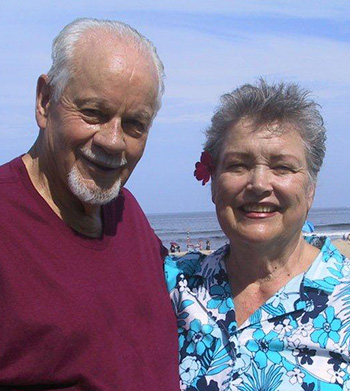 September 2015
Dear Friends!
I looked at the last "News" and couldn't believe it was last updated in APRIL!! We have surely had a fast and furious (and relaxing too) summer--how about you? We spent most of it in a lovely Christian community near Sebring, Florida, Maranatha Village...we bought a little "hideaway", an enlarged single-wide mobile home that we have named "The Little Blue Castle!" Oh, the simplicity of our summer!! Meeting wonderful Christians and getting to know the folks at Maranatha Baptist Church (our new church home) and just chilling out...something we have never NEVER done before!! I kept thinking that I was supposed to feel guilty for relaxing so much, but couldn't bring myself to that point the whole summer!!! The LORD was so precious to us there, providing every need and showering out His blessings on us right and left!
We are excited about later this month...we will have a "Ladies' Enouragement Day" and the Sunday services with old friends of ours...Pastor David and Marilyn Tosi...at Ritchfield Springs Bible Church in the town by that name in New York state! We will return home to Chattanooga late on Monday night, and leave for our annual ladies' retreat at the Cedine Bible Camp outside of Spring City, TN, the next day!!! Meetings in Chattanooga, Pensacola and Jacksonville will finish out our fall, and then our plan is to return to "The Little Blue Castle..."
My sweet Lambie celebrated his 81st birthday down at Maranatha!! We had a party for him and several new friends came to help celebrate...of course there was his favorite--coconut cake and ice cream!! He is doing great health-wise and both of us are so surprised that we LOVE Florida!! (Sorry, all you Floridians!!) We have just been mountain people for so long...experiencing the different seasons...etc.
We will maintain our home here in Chattanooga for as long as the Lord directs...what an adjustment to begin thinking about "down-sizing", etc...frankly, Margaret, I don't like it!!
Anyway, if you are reading this and you are one of those dear ones that we meet "along the trail," please pray for us to have strength and God's wisdom to make these adjustments and STAY in the Lord's perfect will for us!! Hope to see you soon!!
Love and prayers for a lovely fall and winter for us all!
Bro. Ed and Mina
How to Schedule Mina at your Church or Event 1.

Check the

Itinerary 2.

Contact Us:

Email Mina

Please let us know the dates and the venue.

We look forward to hearing from you.

F.A.R. Retreat

The FAR Retreat is held at the beautiful Cedine Conference Center right on Watts Bar Lake in Spring City, TN. Imagine sitting in one of the many rockers on the covered porch that look out over the lake. On Friday evening, there is a share-sing-praise-prayer time around the campfire led by Tracy Coats.

Read more