News from Mina Oglesby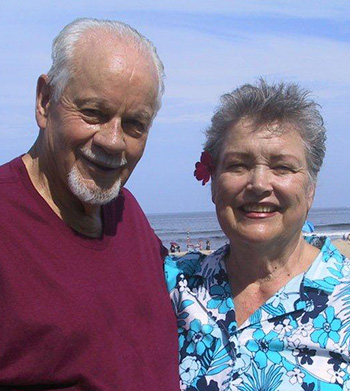 March 3, 2014
Hello, dear friends!
Looking back at the last "News" written at the start of the fresh new year...here we are getting prepared for spring meetings with anticipation and a slight amount of dread...anticipation of seeing many old friends around the country again...experiencing the blessings the Lord always has in store for us...seeing Him show Himself strong on our behalf...but dreading the growing hassle of travel and the unknown lying before us...I guess it is the same old battle...just a new landscape...the spirit vs. the flesh!
How could we have dreamed of the changes that have occurred in our lives during these two months? It is SOOOO comforting to know that the LORD was there before us and knew all about it...AND He has a plan for us! When you read this or think of us, please pray that He will continue to give us His wisdom, courage, and strength to not only meet these challenges, but to do it joyfully and in HIS strength!! He is able!!
Healthwise, my Darling had to have four places on his face and arm biopsied, and two of them were found to contain basal cell carcinomas which were removed by our very competent Dr. Tusa...stitches are out and no further treatment required--thank you, Lord!!
The dear Lord has provided a bird-sitter for our little Maestro, a red-factor canary, given to me a year ago on my birthday by our precious Daughter-in-love, Lisa, and Granddaughter, Lena...we will deliver Maestro to the sitter on Thursday before we fly to our first meeting on Friday--to Trinity Baptist Church in Flushing, Michigan. Since we will be gone practically non-stop till Easter, we will miss seeing Maestro till then...
Spring is just a few degrees away--already the daffodils are popping out and some lilies testing the air above their beds...sure hope the hydrangea buds stay dormant a bit longer or they are going to get their little heads frozen off!!
During our time "off" this winter, we have had many opportunities to encourage, counsel, and just "be a blessing" to a number of folks...each time we visit, or have folks in for a meal, we feel the leading and presence of the Lord to make a difference in lives.
Feb. 28 was the one-year anniversary of our beloved friend, Barbara Fortner's, Homegoing...she has been missed and thought of so often during this time...we look forward to being reunited one day!!
March 1 was the one-year anniversary of our daughter, Faye's, move back to Chattanooga...what a blessing that has been to us!
We have developed a little routine during this time off, and while routine is good in some ways, but tends to "spoil" us in others..sleeping to a certain time, relaxed time of rich devotions together (WITH our favorite coffee!!! YES!!!), no set schedule except for visits to the pool at the Y...all that is turned on its head when travel begins...BUT how exciting that God still chooses to use us!!
Lord, please make each of us usable this year!!
Hope to see you along the trail!!
Love to each of you!
Eddie and Mina
How to Schedule Mina at your Church or Event 1.

Check the

Itinerary 2.

Contact Us:

Email Mina

Please let us know the dates and the venue.

We look forward to hearing from you.

F.A.R. Retreat

The FAR Retreat is held at the beautiful Cedine Conference Center right on Watts Bar Lake in Spring City, TN. Imagine sitting in one of the many rockers on the covered porch that look out over the lake. On Friday evening, there is a share-sing-praise-prayer time around the campfire led by Tracy Coats.

Read more